Kearifan Lokal dalam Pengelolaan Lubuk Larangan di Desa IV Koto Setingkai Kecamatan Kampar Kiri Kabupaten Kampar Provinsi Riau
Indah Sri Rahmawati

Fakultas Perikanan dan Kelautan Universitas Riau

Ridar Hendri

Fakultas Perikanan dan Kelautan Universitas Riau

Kusai

Fakultas Perikanan dan Kelautan Universitas Riau
Keywords:
kearifan lokal, lubuk larangan, kampar kiri
Abstract
This research was conducted on March 2020 at IV Koto Setingkai Village, Kampar Kiri Sub- District, Kampar  Regency, Riau Province. This study aims to Describes the history of Lubuk Larangan, describes how to manage Lubuk Larangan. The method used in this research with  descriptive qualitative. From the results of the study, be discovered Lubuk Larangan was formed in 2013 by mutual agreement between ninik mamak, government officials and community leaders in IV Koto Setingkai village. The Lubuk Larangan is influenced by neighboring villages and the local wisdom of Lubuk Ban that already exists in West Sumatra. The catching procession at the opening of the Lubuk Larangan is carried out by reading the prayer by the Ustadz and catching fish with nets by ninik mamak, harvesting is carried out from 8 a.m to 6 p.m, for closing the lubuk larangan with throwing the Kain kafan in the middle of the river and reading the yasin also prayers. This rule is very strong against the mystical beliefs of the local community, they believe that with the shroud the mystical nature is thicker and the people are more afraid and believe that the curse is really real.  The throwing of the kain kafan its  means that the curse that will be put on for violators of the lubuk larangan rules can only be healed by the shroud (death) alone.
Downloads
Download data is not yet available.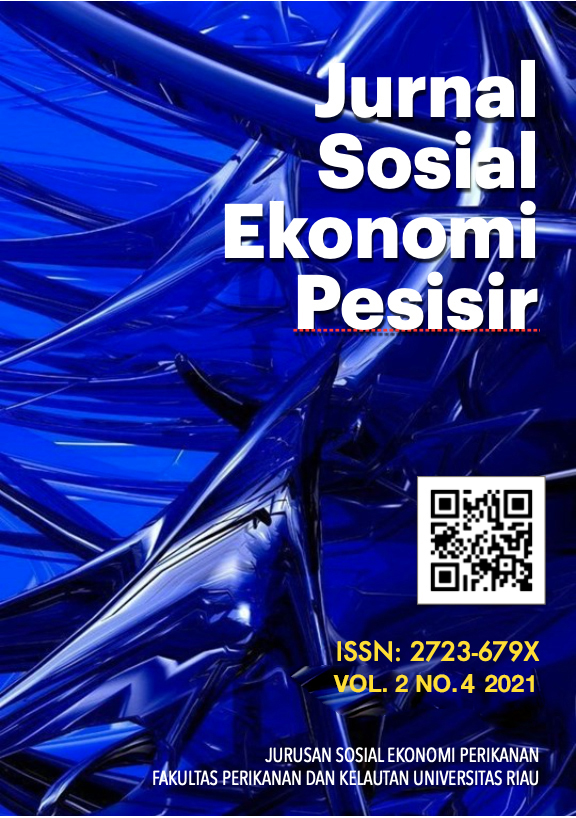 How to Cite
Indah Sri Rahmawati, Ridar Hendri, & Kusai. (2021). Kearifan Lokal dalam Pengelolaan Lubuk Larangan di Desa IV Koto Setingkai Kecamatan Kampar Kiri Kabupaten Kampar Provinsi Riau. Jurnal Sosial Ekonomi Pesisir, 2(4), 10-16. Retrieved from https://sep.ejournal.unri.ac.id/index.php/jsep/article/view/89