Motivasi Usaha Pembudidaya Ikan Di Kelompok Ingin Maju Nagari Mungo Kecamatan Luak Kabupaten Lima Puluh Kota Provinsi Sumatera Barat
Dely Multi Sasra

Fakultas Perikanan dan Kelautan Universitas Riau

Ridar Hendri

Fakultas Perikanan dan Kelautan Universitas Riau

Zulkarnain

Fakultas Perikanan dan Kelautan Universitas Riau
Keywords:
Motivation Business, Fish Farmer, Mungo
Abstract
This research was conducted in April until May 2019 in the group Ingin Maju Nagari Mungo Sub-District Luak Lima Puluh Kota Regency West Sumatera Province. This study was aimsed to to analyze the motivation trying to cultivator of the and analyzes that causes motivation cultivator of the business. The method was used in the researec is using by survey. Population in this study were those cultivator of the fish in the group would like forward .The sample collection is done with census methods .The number of respondents was 29 people. Data collection techniques used is interview , observation and documentation. While analysis techniques is in an analysis of the data used in the form of using the likert scale and interview deeply and kata-kata explained by a sort of descriptive set. The result showed that the business motivation cultivator of the fish are high with (100 %) skore (2294) high .Cause business motivation cultivator of the high appreciation cultivator of the groups and livelihoods were long ago or hereditary, adequate business environment, needs and income is enough.
Downloads
Download data is not yet available.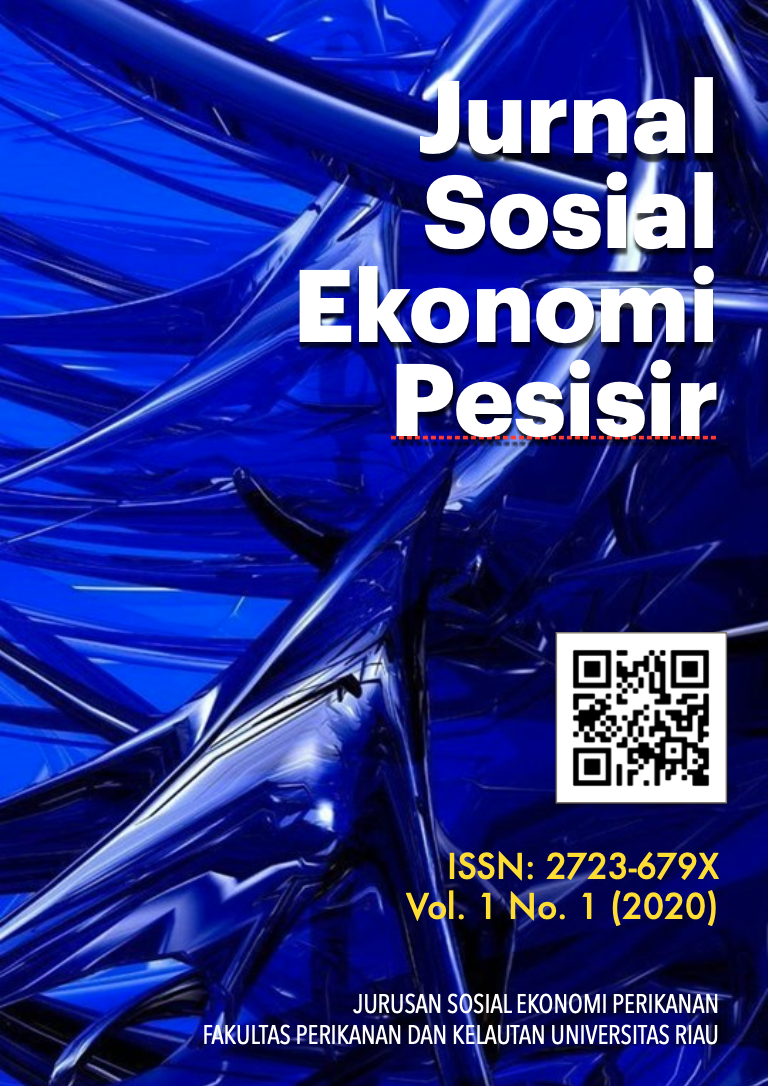 How to Cite
Dely Multi Sasra, Ridar Hendri, & Zulkarnain. (2020). Motivasi Usaha Pembudidaya Ikan Di Kelompok Ingin Maju Nagari Mungo Kecamatan Luak Kabupaten Lima Puluh Kota Provinsi Sumatera Barat. Jurnal Sosial Ekonomi Pesisir, 1(1), 61-66. Retrieved from https://sep.ejournal.unri.ac.id/index.php/jsep/article/view/18