Strategi Pengembangan Usaha Distributor Ikan Beku UD. Assa Group Di Kota Padang Sidempuan
Muin Rahman Harahap

Fakultas Perikanan dan Kelautan Universitas Riau

Darwis AN

Fakultas Perikanan dan Kelautan Universitas Riau

Firman Nugroho

Fakultas Perikanan dan Kelautan Universitas Riau
Keywords:
strategy, development effort, SWOT analysis
Abstract
This research was conducted in August-September 2020 in the city of Padang Sidempuan to be precise at the UD company. Assa Group. This study aimed to identify internal and external factors in the frozen fish business at UD. Padang Sidimpuan City Assa Group and analyzed the strategy of developing frozen fish business at UD. Assa Group Padang Sidimpuan City. The method used in this research a case study and analyzed using a SWOT analysis. The results showed that the internal factors of UD. The most influential Assa Group Padang sidempuan is the products are still fresh and of high quality, the availability of quite a lot of raw materials, the maximum workforce performance. While the weaknesses in the management of packaging design are still not attractive, access to product promotion is still difficult, marketing locations are still on a regional scale, the production process does not have neatly arranged management. For external factors from UD. Assa Group Padang sidempuan is a Market Share opportunity that is relatively easy to reach, economic conditions are relatively stable, public trust in the company is quite good, high demand from local people inside and outside the city for frozen fish. While the threat, the emergence of competitors who use resources more efficiently, fluctuations in market prices and depending on climatic conditions, limited suppliers for materials and product processing tools.
Downloads
Download data is not yet available.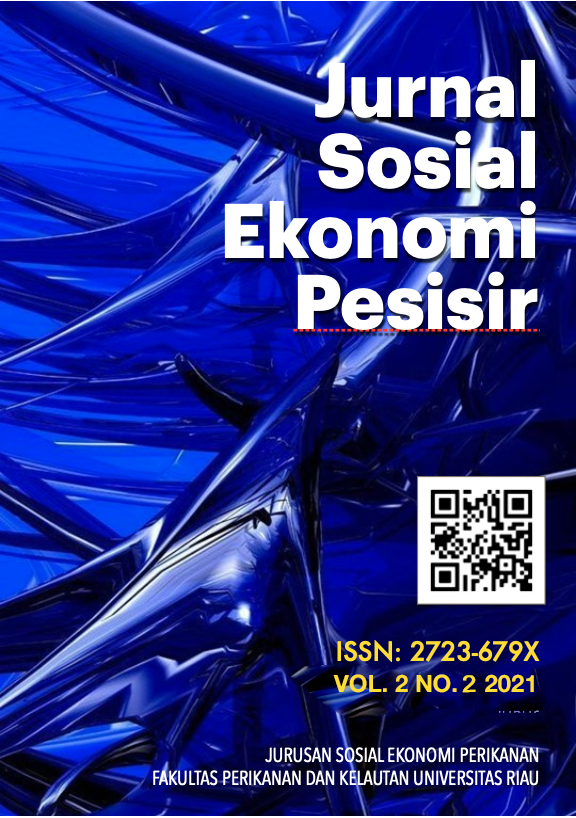 How to Cite
Muin Rahman Harahap, Darwis AN, & Firman Nugroho. (2021). Strategi Pengembangan Usaha Distributor Ikan Beku UD. Assa Group Di Kota Padang Sidempuan. Jurnal Sosial Ekonomi Pesisir, 2(2), 16-26. Retrieved from https://sep.ejournal.unri.ac.id/index.php/jsep/article/view/76