Analisis Profitabilitas Usaha Tahu Tuna Krispi "Tatuchi" di Kecamatan Lowokwaru Kota Malang
Indah Dewi Surya

Fakultas Perikanan dan Ilmu Kelautan Universitas Brawijaya

Candra Adi Intyas

Fakultas Perikanan dan Ilmu Kelautan Universitas Brawijaya
Keywords:
tatuchi, consumption level, processed fish, aspects, marketing
Abstract
Indonesia is an archipelagic country with huge potential for fishery resources. However, the level of fish consumption in Indonesia is relatively low compared to the potential of fishery resources owned. The causes of the low consumption of fish include the lack of public understanding about the benefits of consuming fish, the lack of smooth distribution of fish, and not optimal facilities and infrastructure. Researchers formulate a food innovation product derived from processed tuna, namely Tuna Crispy Tofu "TATUCHI". The purpose of this study was to identify and describe the business profile of TATUCHI, management aspects, marketing aspects, technical aspects, financial aspects of TATUCHI's business. The research method used is the method of active participation, observation and documentation by means of researchers going directly to the field. In this study using a sampling technique, namely purposive sampling. Data collection methods used are interviews and documentation. This research was conducted on November 8, 2021 – December 8, 2021. The results obtained from this study were the name of the business, namely Tuna Crispy Tofu "TATUCHI" which was issued in November 2021. The marketing aspect of the Crispy Tuna Tofu business "TATUCHI" using a marketing strategy variable consisting of segmentation, targeting, positioning, and difirrentation besides that it will also analyze the marketing mix which includes the 4Ps (Product, Price, Place and Promotion). The financial aspect consists of capital, production costs, revenues, profits, R/C Ratio, BEP, and RTC.
Downloads
Download data is not yet available.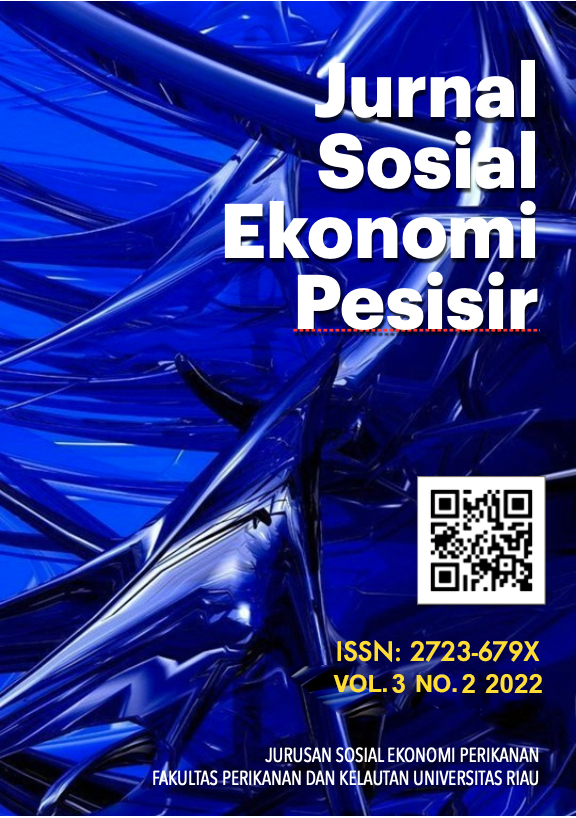 How to Cite
Indah Dewi Surya, & Candra Adi Intyas. (2022). Analisis Profitabilitas Usaha Tahu Tuna Krispi "Tatuchi" di Kecamatan Lowokwaru Kota Malang. Jurnal Sosial Ekonomi Pesisir, 3(2), 1-9. Retrieved from https://sep.ejournal.unri.ac.id/index.php/jsep/article/view/98