Profil Akses dan Kontrol Rumah Tangga Generasi Kedua Pemukim Kembali di Desa Koto Mesjid Kecamatan Kampar Provinsi Riau
Tince Sofyani

Fakultas Perikanan dan Kelautan Universitas Riau
Keywords:
second generation, livelihood, resettlement, access, control
Abstract
The objectives of this study were to assess the profile access and control on household farming livelihood of second generation of resettler. This study was conducted in Koto Mesjid Village of Subdistrict XIII Koto Kampar, Kampar district, Riau Province. Location in this study was selected by purposive sampling technique. Population used in this study were all second generation in Koto Mesjid Village. The number of samples in Koto Mesjid village were 62 households. The result of this study showed  there is difference between access and control to resources aspect and stages of farming activites between men (husbands) and women (wives). The resettlement impacts caused the women's (wife) access to the land to be reduced, caused by the loss of farming activities in the paddy fields as a result of the Koto Panjang dam construction.
Downloads
Download data is not yet available.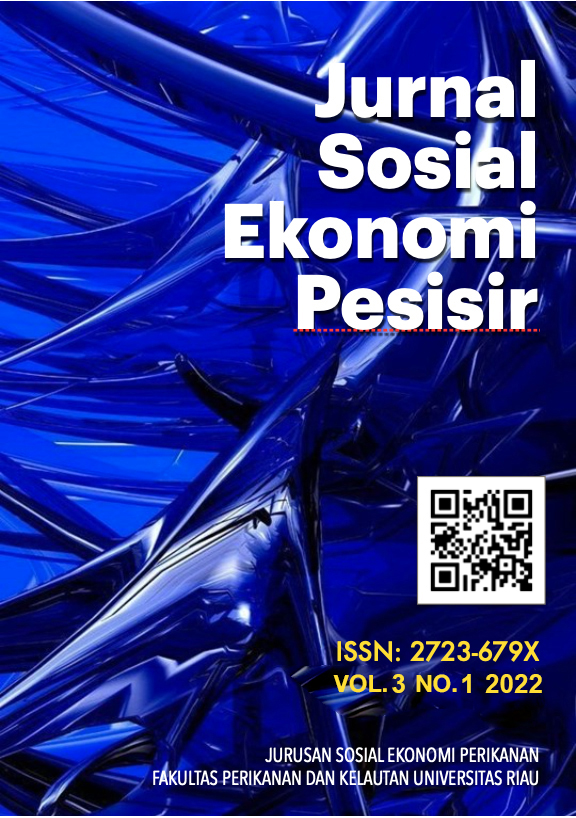 How to Cite
Tince Sofyani. (2022). Profil Akses dan Kontrol Rumah Tangga Generasi Kedua Pemukim Kembali di Desa Koto Mesjid Kecamatan Kampar Provinsi Riau. Jurnal Sosial Ekonomi Pesisir, 3(1), 22-28. Retrieved from https://sep.ejournal.unri.ac.id/index.php/jsep/article/view/95