Kontribusi Wanita Tani Dalima Terhadap Pendapatan Rumah Tangga
Dita Pratiwi

Institut Pertanian Bogor

Lukman Mohammad Baga

Institut Pertanian Bogor

Yusalina

Institut Pertanian Bogor
Keywords:
pendapatan, kontribusi, peran kelompok, kwt dalima
Abstract
The contribution of women in the agricultural sector has increased in the last two years. This is caused by the population growth and household economy. Women contribute in the agricultural sector involved in almost all farming activities from planting to marketing.  Some activities in agricultural sector such as seeding, weeding, fertilizing, watering and harvesting are more suitable to be done by women. Therefore, the purpose of this study was to analyze the women farmer contribution to household income.  The study included one group of women farmers. Data used in this research were primary data and secondary data.  Primary data was obtained by interviewing respondents using a questionnaire while secondary data was conducted using a literature review and from various related institutional sources. The contribution of women farmers to household income measured by comparing the income received by women farmers with the income that their husbands and children received. The result showed that The contribution of women farmers to household income is 24%.  This number classified as low but still relatively higher than the contribution of women farmers in other developing countries.  This indicates that the role of women farmer group, is important to increase the women farmer income.
Downloads
Download data is not yet available.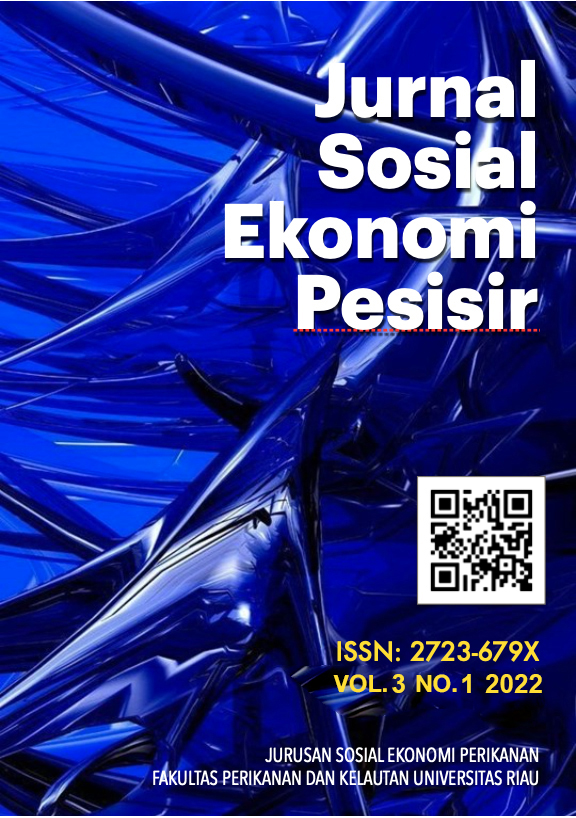 How to Cite
Dita Pratiwi, Lukman Mohammad Baga, & Yusalina. (2022). Kontribusi Wanita Tani Dalima Terhadap Pendapatan Rumah Tangga. Jurnal Sosial Ekonomi Pesisir, 3(1), 1-9. Retrieved from https://sep.ejournal.unri.ac.id/index.php/jsep/article/view/93