Faktor-Faktor yang Mempengaruhi Konsumen dalam Memutuskan Pembelian Ikan Patin Segar (Pangasius sp) di Pasar Arengka Kota Pekanbaru Provinsi Riau
Muhammad Fajri Riffan Jami

Fakultas Perikanan dan Kelautan Universitas Riau

Ridar Hendri

Fakultas Perikanan dan Kelautan Universitas Riau

Eni Yulinda

Fakultas Perikanan dan Kelautan Universitas Riau
Keywords:
arengka market, consumer decision, Pangas catfish
Abstract
Research on the factors affecting consumers in deciding to purchase fresh fish Patin (Pangasius sp) was held in March 2020 at the market Arengka Kota Pekanbaru Riau province. This research aims to know about the overview of the market Arengka Panam Pekanbaru, knowing the characteristics of the consumers of fresh fish in the market Arengka Panam Pekanbaru and analyze the factors that affect consumers in deciding the purchase of fresh fish patin in the market Arengka Panam Pekanbaru. The method used is a survey method with the number of respondents as many as 25 consumers of fresh starch fish. From the results of the research is known that Arengka morning market is one of the traditional market that is managed by the private sector, which is the morning market Arengka was established in the year 1990 on the land of Mr. Pudja, with a land area of 6,000 m2.  Arengka Morning Market located on the street of Arengka and Soekarno Hatta Village District Sidomulyo Marpoyan Damai, has 95 kiosks, 210 Los, consisting of 400 traders 305 male merchants and 95 women merchants one of his freshman fish vendors consisting of 25 trader. Factors affecting consumers in buying fresh patin fish market in the morning is the quality of fish, prices and decisions consumers fresh patin, of the three factors that became the main factor of consumers in deciding.
Downloads
Download data is not yet available.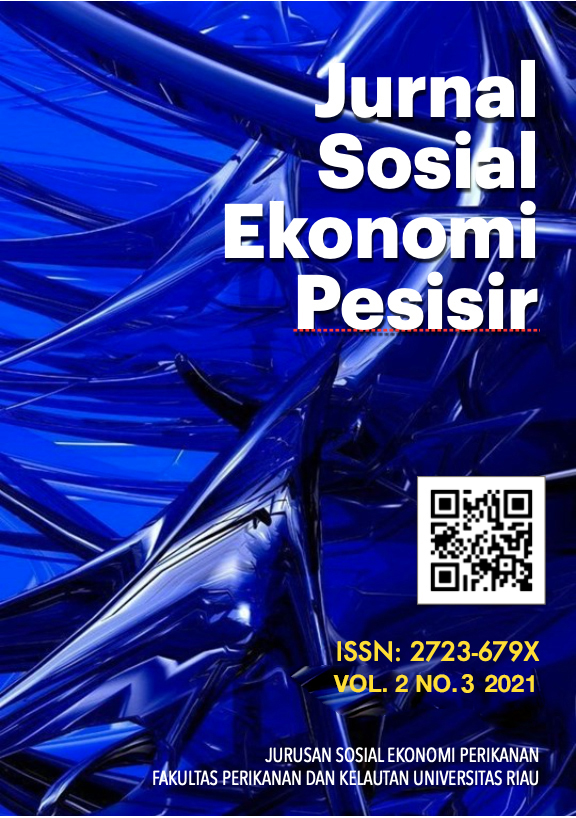 How to Cite
Muhammad Fajri Riffan Jami, Ridar Hendri, & Eni Yulinda. (2021). Faktor-Faktor yang Mempengaruhi Konsumen dalam Memutuskan Pembelian Ikan Patin Segar (Pangasius sp) di Pasar Arengka Kota Pekanbaru Provinsi Riau. Jurnal Sosial Ekonomi Pesisir, 2(3), 1-8. Retrieved from https://sep.ejournal.unri.ac.id/index.php/jsep/article/view/83