Pemetaan Potensi dan Komoditas Lokal Unggulan Perikanan Laut Kabupaten/Kota di Provinsi Nusa Tenggara Timur Tahun 2016
Hudan Dhardiri

Badan Pusat Statistik Republik Indonesia

Susi Yulianti

Badan Pusat Statistik Kabupaten Polewali Mandar

Adilla Zikra

Badan Pusat Statistik Kabupaten Mempawah
Keywords:
cluster, fishing, potency, klaster, perikanan, potensi
Abstract
One of the government's development priorities in Nawa Cita to succeed the SDGs is to build economic independence by driving strategic sectors of the domestic economy, one of which is the marine fisheries sector. The region that has the potential to be developed, by utilizing the local potential of marine fisheries, is the Province of East Nusa Tenggara (NTT). NTT has a great marine fisheries potential because it has a sea area of approximately 200,000 km2 with a coastline of about 5,700 km2. The purpose of this study was to find out which districts/cities are classified as high potential in the marine capture fisheries sub-sector and what marine capture fisheries commodities have the highest potential in each of those districts/cities in NTT Province in 2016. The data used in this study were sourced from the Fisheries Service, NTT and the analytical method used is descriptive analysis, cluster analysis using the Fuzzy C-Medoids method, and Location Quotient. The results of the analysis show that there are 8 districts/cities classified as high potential in the marine capture fisheries sub-sector in NTT Province in 2016, which are East Sumba, Kupang, Alor, East Flores, Sikka, Ende, Manggarai, and Kupang City. The commodities that have the highest potential in the marine capture fisheries sub-sector in each of these potential areas are paperek fish, flying fish, kite, jackfruit seeds, selar, tembang, mackerel, and skipjack.
Downloads
Download data is not yet available.
References
Ameriyani, Putri. 2014. Perencanaan Pengembangan Sub Sektor Perikanan Laut di Lima Kecamatan di Kabupaten Rembang. Economics Development Analysis Journal.
Badan Pusat Statistik NTT. 2017. Provinsi Nusa Tenggara Timur Dalam Angka 2017.
Deputi Bidang Kemaritiman dan SDA Kementrian PPN/Bappenas. Kerangka Kebijakan Dalam Rangka Implementasi Nawa Cita dan Sustainable Development Goals - SDGs. Diakses melalui https://www.bappenas.go.id/index.php/download_file/.../4366/
Dr. Ir. Dietriech G. Bengen, DEA. (2001). Prosiding Pelatihan Pengelolaan Wilayah Pesisir Terpadu. Bogor: Pusat Kajian Sumberdaya Pesisir dan Lautan Institut Pertanian Bogor.
Iqbal, Muhammad dan Iwan Setiajie Anugrah. 2009. Rancang Bangun Sinergi Kebijakan Agropolitan dan Pengembangan Ekonomi Lokal Menunjang Percepatan Pembangunan Wilayah. Jurnal Analisis Kebijakan Pertanian. Volume 7 No. 2, Juni 2009: 169-188.
Krishnapuram, Raghu dkk. 2001. Low-Complexity Fuzzy Relational Clustering Algorithms for Web Mining. IEEE Transactions On Fuzzy Systems, Vol. 9, No. 4, August 2001.
Nugroho, S.B.M., 2004. Model Ekonomi Basis untuk Perencanaan Pembangunan Daerah. Jurnal Dinamika Pembangunan (JDP), 1(Nomor 1), hal.23-30.
Paolo Giordani dan Maria Brigida Ferraro. 2015. Package 'fclust'. Diakses melalui https://cran.r-project.org/web/packages/fclust/fclust.pdf.
Pertiwi, Amanda Putri. 2017. Analisis Resiko Bencana Banjir di Indonesia Tahun 2011-2015. Skripsi. Sekolah Tinggi Ilmu Statistik.
Prishardoyo, B., 2008. Analisis Tingkat Pertumbuhan Ekonomi dan Potensi Ekonomi Terhadap Produk Domestik Regional Bruto (PDRB) Kabupaten Pati Tahun 2000-2005. JEJAK: Jurnal Ekonomi dan Kebijakan, 1(1).
Supranto, J.. 1988. Statistik: Teori dan Aplikasi. Jilid 1. Erlangga. Jakarta.
Supriyadi, E., 2007. Telaah Kendala Penerapan Pengembangan Ekonomi Lokal: Pragmatisme Dalam Praktek Pendekatan PEL. Journal of Regional and City Planning, 18(2), hal .103-123.
Sutomo, S. (2015). Sistem Data dan Perangkat Analisis Ekonomi Makro. Bandung: Corbooks.
http://www.nttonlinenow.com/new-2016/2017/06/13/sektor-kelautan-dan-perikanan-berpotensi-dongkrak-perekonomian-ntt/. Diakses pada 22 November 2021.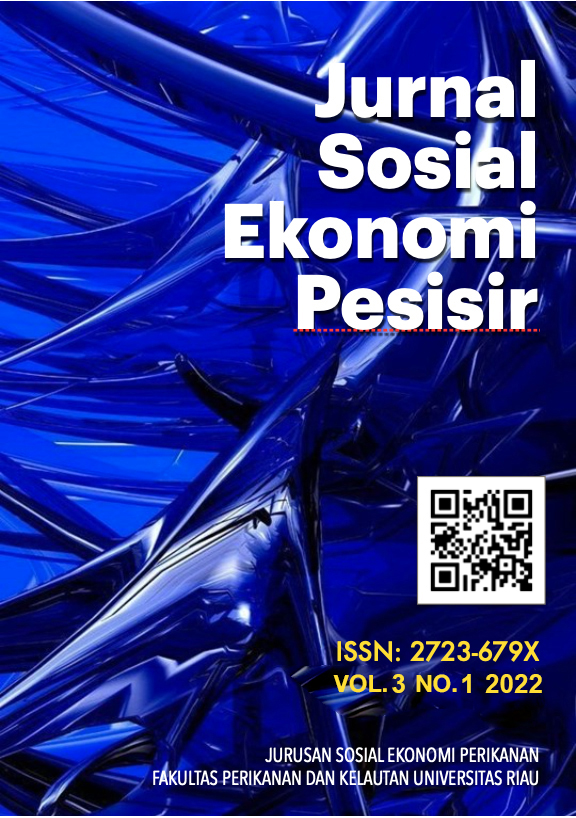 How to Cite
Hudan Dhardiri, Susi Yulianti, & Adilla Zikra. (2022). Pemetaan Potensi dan Komoditas Lokal Unggulan Perikanan Laut Kabupaten/Kota di Provinsi Nusa Tenggara Timur Tahun 2016. Jurnal Sosial Ekonomi Pesisir, 3(1), 10-15. Retrieved from https://sep.ejournal.unri.ac.id/index.php/jsep/article/view/79