Perbandingan Pendapatan Pemilik Keramba Jaring Apung (KJA) Ikan Nila dan Ikan Mas Skala Kecil di Kelurahan Haranggaol Kecamatan Haranggaol Horison Kabupaten Simalungun Provinsi Sumatera Utara
Winda Harefa

Fakultas Perikanan dan Kelautan Universitas Riau

Hendrik

Fakultas Perikanan dan Kelautan Universitas Riau

Darwis AN

Fakultas Perikanan dan Kelautan Universitas Riau
Keywords:
Lake Toba, KJA, investment, income, business feasibility
Abstract
The research was carried out in November-December 2019 in Haranggaol Village, Haranggaol Horison District, Simalungun Regency, North Sumatra Province. The purpose of the study was to determine the amount of investment, income and profit, as well as to analyze the comparison of investment feasibility with investment criteria such as RCR, PPC, and FRR for small-scale Tilapia and Goldfish KJA businesses. The method used in this study is a survey method. The results of the study showed that a KJA business with 4 bags for Tilapia required an investment of Rp. 167,616,000 while the Goldfish is Rp.139,616,000. The income for one harvest for the Tilapia KJA business is Rp. 35,943,125 and for the Goldfish KJA Rp. 24,863,125. Based on the investment criteria for the Tilapia KJA, the RCR value was 1.2, the PPC was 2.35 years and the FRR was 42%, and the Carp KJA had an RCR value of 1.25%, PPC was 2.8 years, and an FRR was 36%.
Downloads
Download data is not yet available.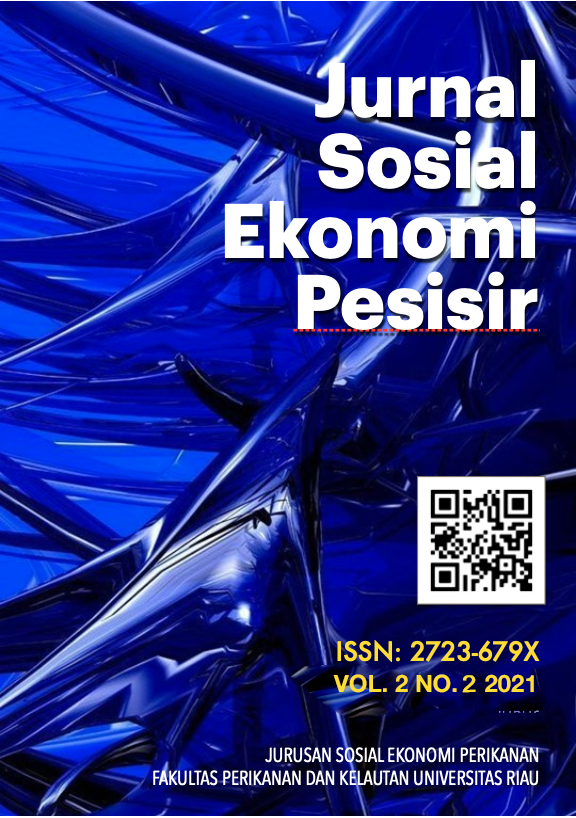 How to Cite
Winda Harefa, Hendrik, & Darwis AN. (2021). Perbandingan Pendapatan Pemilik Keramba Jaring Apung (KJA) Ikan Nila dan Ikan Mas Skala Kecil di Kelurahan Haranggaol Kecamatan Haranggaol Horison Kabupaten Simalungun Provinsi Sumatera Utara. Jurnal Sosial Ekonomi Pesisir, 2(2), 7-15. Retrieved from https://sep.ejournal.unri.ac.id/index.php/jsep/article/view/75